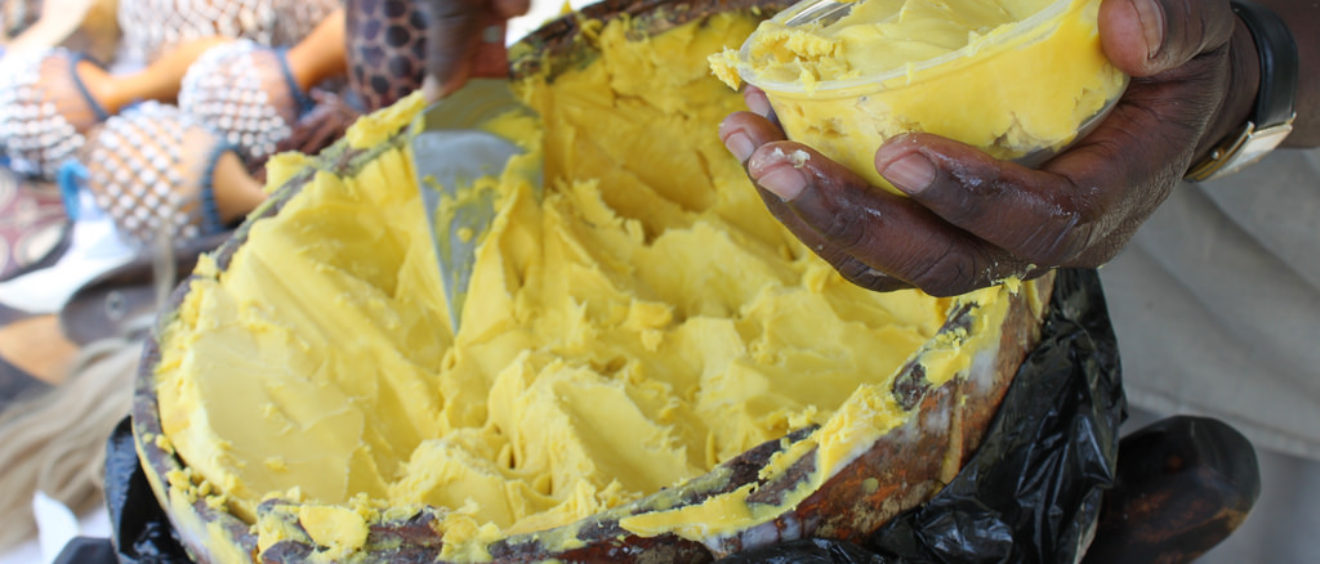 All About Shea Butter!
Shea Butter 101
Shea Butter is becoming more widely known as a fantastic addition to soap and body balms.  This is because of the calming and nourishing effect it has on problem skin.  It can even be used alone, simply rubbed onto dry or sensitive skin.  Lets find out a little more about this amazing natural vegetable butter.
Shea has had a long history as a precious commodity that can be traced back to Ancient Egypt, where it continues to be used to protect the hair and skin in the fierce sun and the hot dry winds of African deserts.  Nuts from shea trees (Vitellaria paradoxa) are the source of shea butter, and they grow in a narrow belt of fertile soils in the savannah stretching from West Africa to East Africa.  The trees become fertile at around 20 years and keep producing for up to 200 years!

The best shea butter to buy is unrefined, fair trade and organic if possible.  This means that the farmers have been paid a fair price for the work involved in producing shea.  If you buy organic then the farmers are far less likely to have been exposed to nasty toxic chemicals and sprays.
How is shea butter made?
The shea butter is extracted by cracking the nuts and pounding them into small pieces.  The small pieces are then slowly roasted, water is added and the paste is then whipped.  The paste is then purified over fire, so that the fats rise to the top, and the oil settles below.  The final step is to skim off the fat and let the oil settle at the bottom.  The final stage involves slowly boiling the fat and squeezing out of any remaining water.
Shea butter in Soap
Shea  is excellent in soap – as it has many skin healing and care properties.  In addition to this, the butter is a complex fat that is mostly nonsaponfiable.  When soap is made, fats and oils are mixed with a strong alkaline which in turn saponifies the fats and oils and turns them into soap.  Shea however, cannot be fully converted into soap (the other oils in the soap will be saponified however), because of its acid profile.  To cut a long story short, this means that a soap with shea butter will be 'super fatted', meaning you'll find the soap incredibly moisturising and nourishing.
Why is shea butter great for our skin?
Shea butter is a skin superfood.  This is because it is naturally rich in vitamins A, E and F.  Amazingly, it offers UV protection (it is SPF ~6 – often found in natural sunscreens) and provides the skin with essential fatty acids necessary for collagen production. Shea butter has been used in Africa for years to improve skin and hair.  The benefits of shea include:
**  Moisturising – the natural fatty acids and vitamins are readily and easily absorbed by the skin.  Shea helps protect dry skin.
**  Reduces Inflammation – studies have concluded that shea butter can reduce skin inflammation and even help with skin mutations.  It is great for people with acne.
**  Skin soothing – long term use helps with skin softening, and strengthening as well as wrinkle reduction (:-0)
Be Natural Shea Butter Soap Line Up
Two of our own soaps contain a proportion of shea butter.  Be Rosy is one of our most popular soaps – it is hard and long lasting and is packed full of real red rose petals.  It has a large proportion of shea – in addition to coconut, olive, rice bran and alomond oils.   Be Divine remind people of perfume!  It is loaded with essential oils of Ylang Ylang, Jasmine and Neroli and also has a high proportion of shea butter!  recently, we've also added shea to our Be Lathered Beer and Honey Soap.  Check these soaps out in our online soap. 
We also custom make healing balms and include shea in those.  The shea butter we use is organic – have a look at Lotus Oils – that's where we purchase it.  You can purchase it in small quantities and make your own balms, or even just use it straight on your tired skin.  Shea butter has also been heralded as being excellent for treating eczema.
So there you have it – that's why we use this amazing nutritious butter in our soapmaking.  Try one of the shea soaps today and discover the difference!