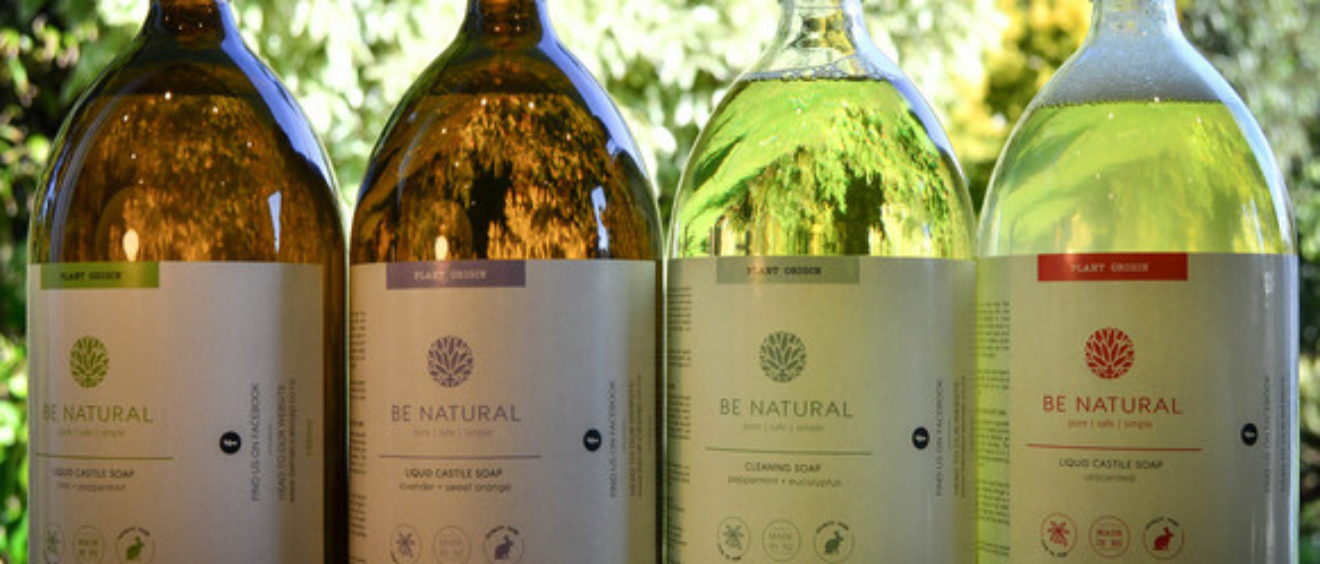 What is Castile Soap?
Find out about Castile Soap
Castile soap is a household essential for people who care what they are putting on their bodies, into their homes and into the environment.  Castile soap is a fantastic environmentally conscious choice for everything from a household cleaner through to personal care.  It is environmentally conscious because it is made from pure natural ingredients (fats and oils) and is fully biodegradable. These natural ingredients are combined with a strong alkaline, which is made using pure rainwater.  The byproduct of this is natural soap.  Castile is marked apart from other soaps, in that it contains few ingredients and it NEVER contains animal fats or oils.  Castile soap can also be either a solid or liquid soap.
Most castile soap is marketed as containing olive oil but any vegetable oil can be used to make a pure castile.  Castile soap is said to have gained its label from the Kingdom of Castilla, now a part of Spain.  Apparently the King of France insisted upon the finest soap made from extra virgin olive oil, and hence the name Castile was born. 
Natural castile soap is known to be a long lasting, effective and potent.  It can be used for a variety of applications, from washing your face through to a dog and pet wash.  This pure soap can be used safely and effectively used in the laundry and is really popular among vegetarians and vegans as it contains no animal products.  It is also great to use with kids, as its pure natural effectiveness washes away grime and dirt without stripping their sensitive skin.
All of Be Natural's soap range is castile soap.  This is because we only use top quality vegetable oils and butters and we keep ingredients lists pure and natural.
Top Ten uses for Castile Soap
Here are my top ten uses for using Be Natural's range of castile soaps in my own home:
As a facial cleanser. (I use Be Smooth with Pink Clay – divine and last forever)
As a yummy body wash!  Both solid and liquid! (the kids use our liquid Sweet Orange and Lavender soap as an all over hair and body wash)
Shampoo!  We make a fantastic solid shampoo bar!
As a great shaving soap!  Looks after sensitive skin and prolongs shaving blades life! (My hubby is stoked that he doesn't have to shell out so much for expensive blades!!!)
As a dishwash – apply the liquid castile directly to roasting dishes and baking tins.
Use the liquid castile cleaning soap as a bathroom cleaner, including showers and toilets. (Yes, I use the same soap we clean the kids with!)
Add the liquid castile (or some grated solid bar) to the washing machine!  Also makes great laundry handwash (is very kind to my skin too!)
Use the liquid castile to help clean windows, apply a squirt directly and clean with a microcloth.
Use the liquid castile to mop floors, brings a natural and clean scent to the room.
Use the liquid castile in the windscreen wiper cleaner dispenser in the car.
All Purpose
Castile soap can be used anytime you need an all purpose cleaner – it is proven to be very effective  – and can not only save you dollars but will help declutter your shelves of the multitude of different products (that you don't really need).  It is also really good for people with sensitive skin as it cuts out contact with other nasty chemicals.  Be Natural sells our liquid castile in bulk – please contact us for prices and delivery.
So why not ditch the toxic chemicals, and try some pure castile today?  Your household, your body and the environment will thank you for it.  You can purchase directly from us here or from one of our retailers nationwide – contact us on benaturalsoap@gmail.com and we can tell you where your closest retailer is.
Please note:  We produce unscented liquid soap in 5 litre cans.   Unscented castile is great as you can add your fragrances/essential oils or use as is for a variety of purposes.